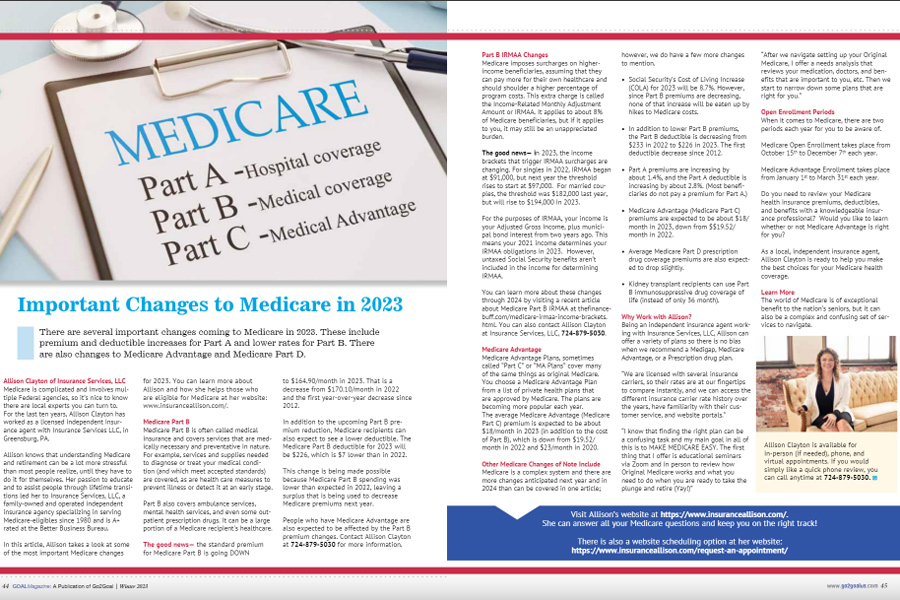 Important Changes to Medicare in 2023
May 17, 2023
Understanding the Many Choices in Healthcare
Health insurance can be very complex and challenging to navigate. In this article, we'll take a look at the different types of insurance available, including major medical, indemnity plans, PPOs, HMOs, and more.
(This article appeared in the Summer 2023 Issue of GOAL Magazine. You can visit the entire issue online at https://issuu.com/go2goal/docs/goal_magazine_summer_2023_issuu?fr=xKAE9_zU1NQ )
To start, let's take a look at why there are so many confusing options when it comes to healthcare. Unlike some other countries with single-payer or government-run healthcare, our system has many stakeholders, including insurance companies, healthcare providers, employers, and government programs. This creates a competitive marketplace where players offer different plans to attract consumers.
That puts healthcare in an unusual position, one where delivering a variety of choices collides with a complex regulatory framework at both the state and federal levels. Coverage requirements, consumer protections, and insurance standards often vary from state to state.
Other pressures on the system include rising healthcare costs and technical innovation. While the US does have some of the highest healthcare costs in the world, both the government and insurance companies keep looking for ways to manage costs. And as new technologies and treatments are developed, they must be merged into this already complicated system.
While a wide range of choices can be overwhelming, they exist to provide individuals and employers with options that meet their personal healthcare needs and financial circumstances, along with the freedom to choose what works best for them. Of course, it's important to carefully evaluate your options, understand terms of coverage, and consider factors like cost, provider networks, and individual health requirements when deciding which healthcare insurance to buy.
Major Medical Plans
When people think of health insurance, they often mean Major Medical Plans, also known as comprehensive or traditional health insurance. Key features of these plans generally include:
Deductibles— the amount you pay out of pocket before your insurance coverage begins.
Coinsurance— the percentage of costs you are responsible for after your deductible is met.
Out-of-Pocket Maximum— the maximum amount you personally must pay in a given year.
Network Providers— a group of healthcare providers who have agreed to negotiated rates with your insurance provider. In network, you get the highest level of coverage at the lowest cost.
These plans are designed to provide coverage for a wide range of medical expenses, including hospital stays, surgeries, prescription medications, and preventive care.
Indemnity Plans
Indemnity plans, also known as fee-for-service plans, provide more flexibility in choosing healthcare providers, along with some related benefits.
With an Indemnity Plan, you often have a wider selection of doctors, hospitals, and services to choose from, and you don't need preauthorization or a referral from your PCP to see a specialist. With indemnity plans, the insurance company pays a pre-determined percentage of "reasonable and customary charges" for a given service, and the insured pays the rest.
One thing separating Indemnity Plans from Major Medical is that you pay for your healthcare services upfront, then submit a claim for reimbursement. This can be useful in some situations, mainly where you prefer to negotiate prices directly with your doctor or hospital.
On the downside, you have to be completely aware of what your healthcare provider is charging, as you may be on the hook for charges not covered by your insurance plan.
Preferred Provider Organization
PPO plans offer a network of healthcare providers who have agreed to provide services at discounted rates to plan members. PPO plans generally allow members to see both in-network and out-of-network providers, but your costs are typically higher for out-of-network care.
How is a PPO plan different from a Major Medical plan?  In many respects the two types of plans are very similar. They both have deductibles, co-payments, and co-insurance, as well as in-network and out-of-network coverage.
Preferred Provider Organization plans, as the name suggests, are known for emphasizing a convenient network and flexibility of choice, such as the idea that you can seek out-of-network care without a referral.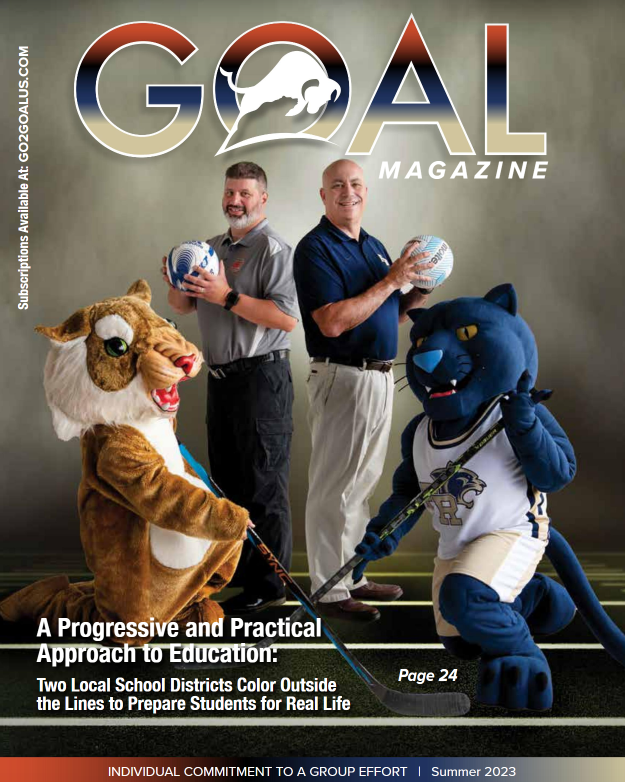 Health Maintenance Organization
HMO plans typically require members to choose a primary care physician (PCP). This doctor delivers preventive care, manages chronic conditions, and can refer you to a specialist when you need one. The goal is to ensure your healthcare is monitored by someone familiar with your situation and focused on your specific needs.
When it comes to specialists, HMOs usually require a referral from your PCP, but with some of our local Medicare Advantage HMOs, it is not always required.
HMO plans offer lower out-of-pocket costs but have more restrictions on seeing out-of-network providers. HMOs often emphasize preventive care, including vaccinations, screenings, and wellness programs. These services are typically covered at little to no cost, encouraging members to maintain their health and catch potential health issues early.
Point of Service Plans
POS plans are a combination of HMO and PPO plans. With this type of insurance, you benefit from reduced costs when you choose in-network providers, but unlike HMOs, you have more flexibility out-of-network. Additionally, while HMOs require a referral from your primary care doctor for specialist visits, POS plans give you direct access to specialized care.
Exclusive Provider Organization
EPO plans are similar to both HMO and PPO plans. Like HMOs, EPOs have exclusive networks, which means they are usually less expensive than PPOs, but as with PPOs, you'll be able to make your own appointments with specialists.
Another difference from a PPO plan is that members usually do not need to choose a primary care physician.  EPO plans are typically great for healthy individuals who can benefit from lower premiums compared to other plans.  But you have to be willing to stay in-network.
High Deductible Health Plans
HDHP plans have high deductibles and low premiums. They are usually paired with a Health Savings Account (HSA), which allows you to save pre-tax money for medical expenses. HDHP plans are great for the young and healthy, those with no chronic conditions. They can lower their healthcare expenses as long as they are ready to shoulder more costs if a medical need does arise.
Catastrophic Health Insurance
Catastrophic plans are designed to provide coverage for severe medical events and have lower premiums but higher deductibles. These plans typically have limited coverage for routine care and are primarily intended for young and healthy individuals.
If you are in good health, have no chronic conditions, and mainly need coverage for unexpected medical emergencies or catastrophic events, this type of insurance can provide financial protection while keeping premiums low.
Why Work with Allison?
Being an independent insurance agent working with Insurance Services, LLC, Allison can offer a variety of plans so there is no bias when we recommend Major Medical, an Indemnity Plan, High Deductible Plan, or others. Our goal is to serve you best.
"We are licensed with various insurance carriers, so their rates are at our fingertips to compare instantly, and we can access the different insurance carrier rate history over the years, have familiarity with their customer service, and website portals."
"After we develop a needs analysis that reviews your medication, doctors, and the benefits that are important to you, then we work to narrow down some plans that are right for you."
Allison Clayton is available for in-person (if needed), phone, and virtual appointments. If you would simply like a quick phone review, you can call anytime at 724-879-5030. 
Visit Allison's website at https://www.insuranceallison.com/. She can answer all your healthcare questions and keep you on the right track!
There is also a website scheduling option at her website: https://www.insuranceallison.com/request-an-appointment/